WELCOME TO THE BLACK PLASMA STUDIOS WIKI!
---
Welcome to the Black Plasma Studios Wiki! Created by the fans, for the fans, we are dedicated to providing our users with the most up to date and accurate information regarding to Black Plasma Studios. Any users can edit, and as a matter of fact, we strongly encourage positive fan contribution. Please follow this link if you are a first time user of Fandom to understand how to properly edit a page, visit Useful Links and Tips to learn how to use our templates. Happy watching!

Animations
Newest Animations
Links
Black Plasma Community Youtube
LATEST RELEASE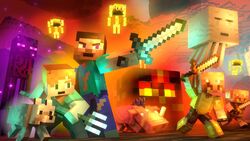 Latest Release:
NETHER WAR
Release Date: July 30th, 2022

BPS Official Discord

BPS Wiki Discord
FANON
As we strive to keep our Black Plasma Studios database good, clean, and accurate, we would prefer to not have the wiki covered with "fanon" material.